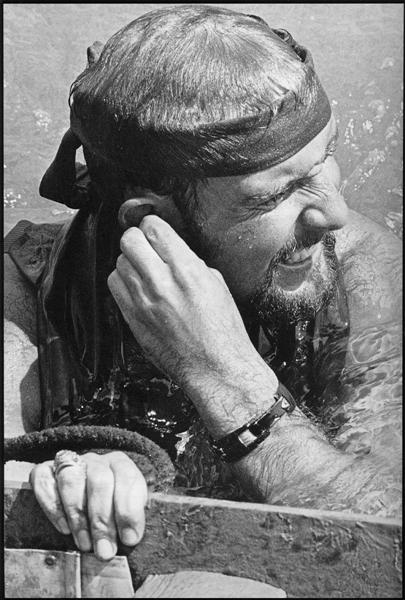 Pictured here is "Lieutenant Mike Slattery from UDT-13, based in Danang and belonging to the Pacific Fleet, has swam under the span of a bridge destroyed by the Vietcong. He is about to order his men to repair the bridge. This action took place on 3 January 1971 as the first UDT and SEAL units were repatriated to the Unitied States" - passage and photo from SEALs in Vietnam by Eric Micheletti.
Here is the one and only period photo (i was able to obtain) that shows a member wearing an Olongapo. The distinct clasp on the bracelet is the telltale sign proving the bracelet is indeed an Olongapo. Also of note is that the bracelet has been painted black - a likely "In Action" necessity.
Thanks to a fellow watch collector who led me to Mr. Slattery's email address. I've since been in contact with Mr. Slattery who has graciously provide me with further photos and a correction to Mr. Micheletti's book.
"The photo's caption is significantly in error though- the French author got it all wrong after: "... he is about to order his men to..." As you probably are aware, UDT doesn't repair bridges- they blow them up. The specific bridge in question is an RR bridge over the Ky Lam river in what became a dangerous choke point in a highly contested area. The downed bridge slowed river traffic and the VC used the opportunity to ambush friendly boat traffic. Our mission (UDT-13 Det Hotel) was to clear a path. The photo catches me just surfacing after checking the demo charges (approx 3000 lbs of C-4 Haversacks & MK-8 Hose) loaded by my men on the twisted spans below the surface. The current was a bitch. We then set double water proof firing time delay fuses and moved off. Chucks of steel the size of Volkswagens were blown a 1000' in the air. (A photo of it as the charges detonate is attached, along with photos of my crew getting ready and in the process of loading it.) Not exactly the standard practice for bridge repair... " : Mr. Mike Slattery UDT 13 / SEAL Team One
Since my posting Mr. Slattery's email and elightenment about the events sorrounding the above photo i've had contact with Mr. Gil Bourdeaux, art director (lay out) for Mr. Eric Micheletti's book. Mr. Bourdeaux wrote me after view this page and wanted to add the following bit of information:
"I just want to add an information about Mike Slattery picture in Eric Micheletti's book.
Eric did not make any mistake about this picture. That caption was written on the back
of this picture provided by the National Archives. It seems that the National Archives
want to give a different image of some Vietnam War events ! So Eric did not make the
mistake, National Archives did."
This past fall the i was contacted by the Navy photojournalist with a COM7THFLT detachment embarked with Det Hotel in Da Nang who shot these photos. He was kind enough to provide information about each and help put things into context and provide information about the UDT members in the photos. This information has been added as a caption below each photo: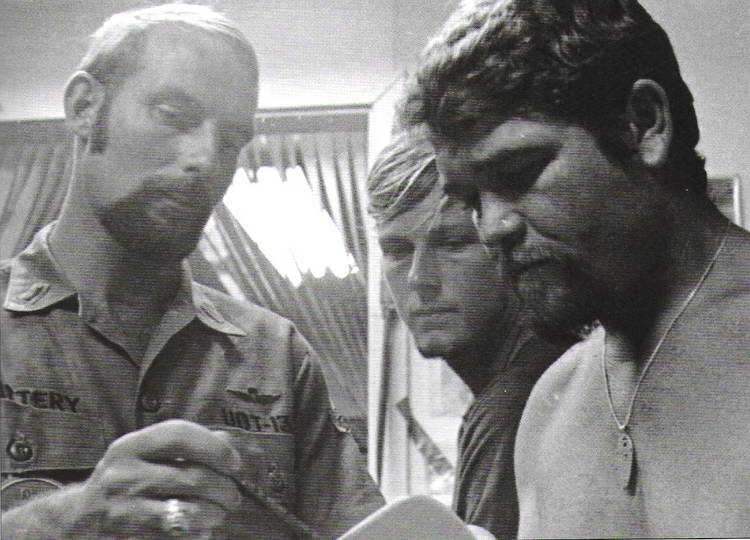 "Slattery, Kelley and Lewis reviewing aerials of the bridge site."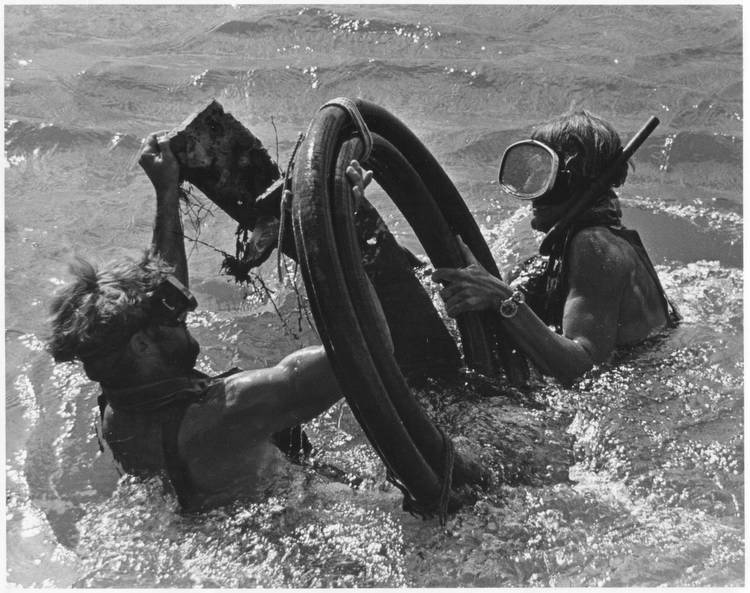 "Fager on the left and Kelley on the right, tying the det hose into rings that could be slipped over the end of an exposed girder and slid down underwater to cut the steel well below the surface."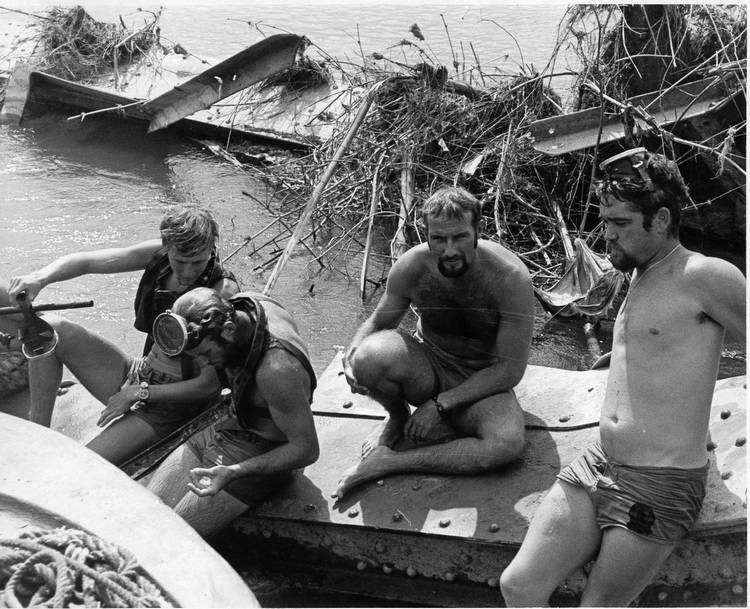 "Discussing technical details for the planned shot, shows - left to right - Kelley, Fager, Slattery, and Lewis."
A closer look reveils another shot of Mr. Slattery wearing his Olongapo bracelet: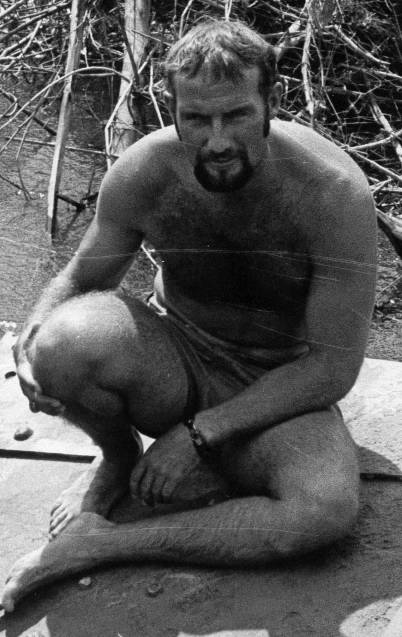 According to Mr. Slattery the emblems on the bracelet were the UDT Frog on one side and Jump Wings upon the other. Mr. Slattery doesn't recall exactly what the watch was, but states it was "the watch i was issued".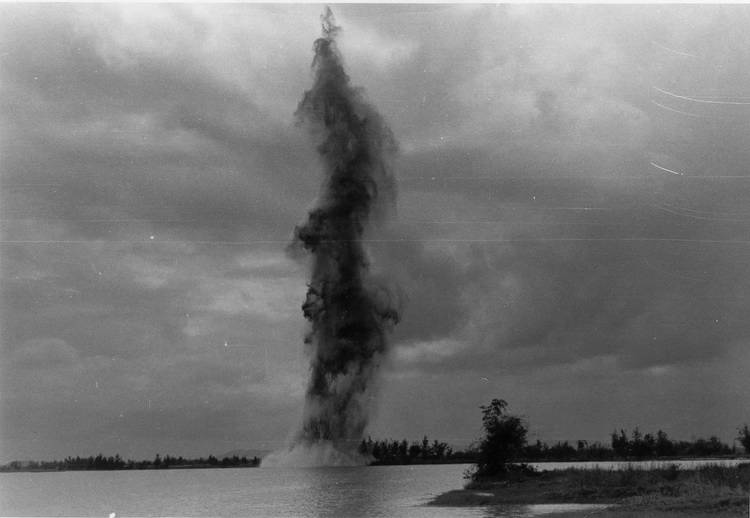 A few final shots of Mr. Slattery during his Tour in Vietnam: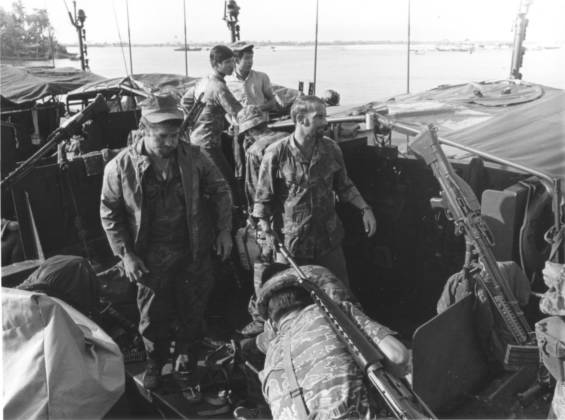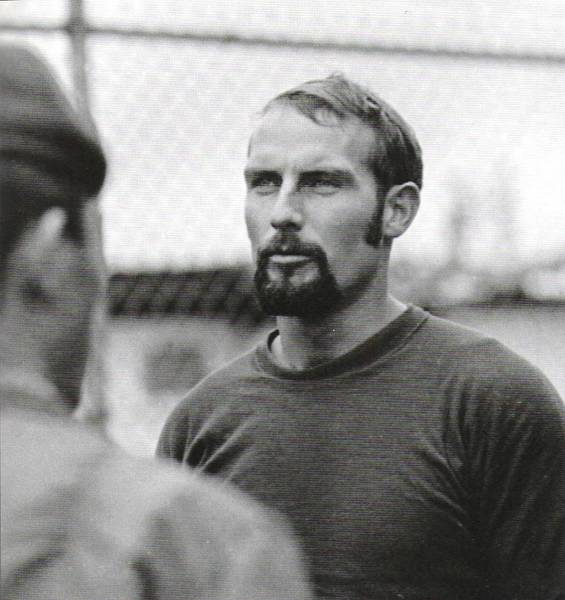 Further correspondence with Mr. Slattery has led to a wonderful addition here - Mr. Slattery has been kind enough to share a few photos of his issued Tudor and his Olongapo bracelet. Here is a portion of a recent email about the bracelet and watch:
"The bracelet was made in the PI (I assume Olongapo since UDT-13 was forward based at Subic Bay from where it deployed detachments to Vietnam.) When I returned from one of those deployments as OIC Det Hotel in Danang I received my bracelet per an order given to one to my Team mates who took on the task of submitting them for those who wanted one. I don't recall the specific details on how the watch was issued, but all operators (officers & enlisted) got one (watches were used during dives & other missions). "
"When I transferred to Team 1 I took it off the UDT bracelet and put it on a standard black wrist band with a compass on it when I deployed back to Vietnam from ST-1".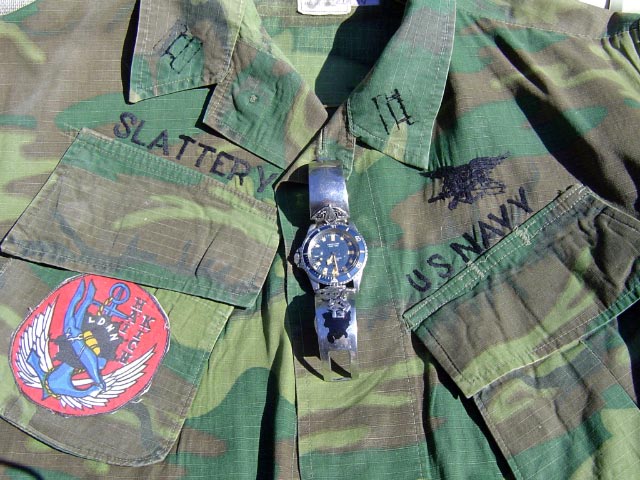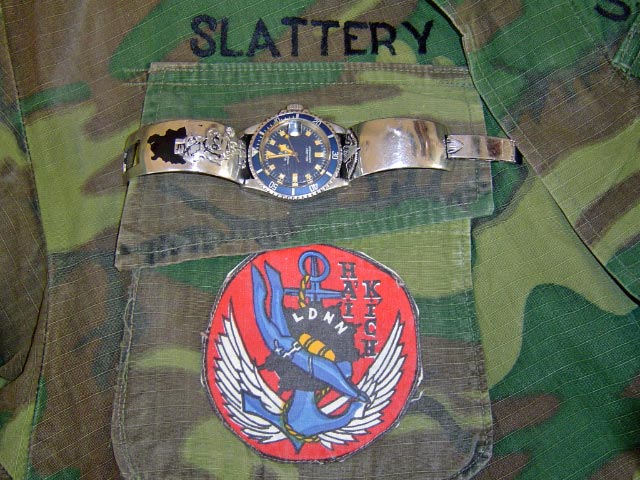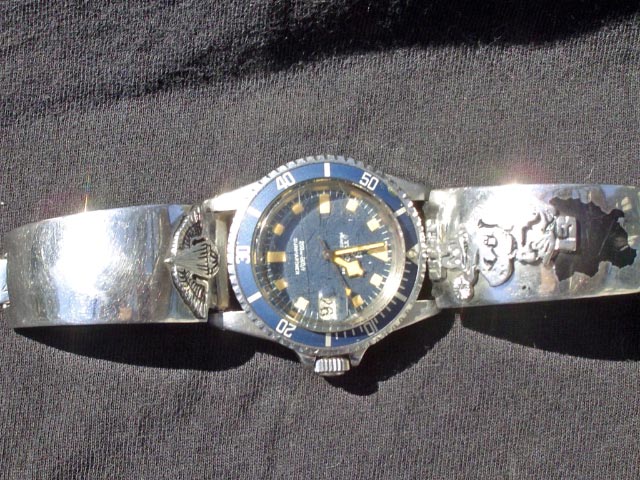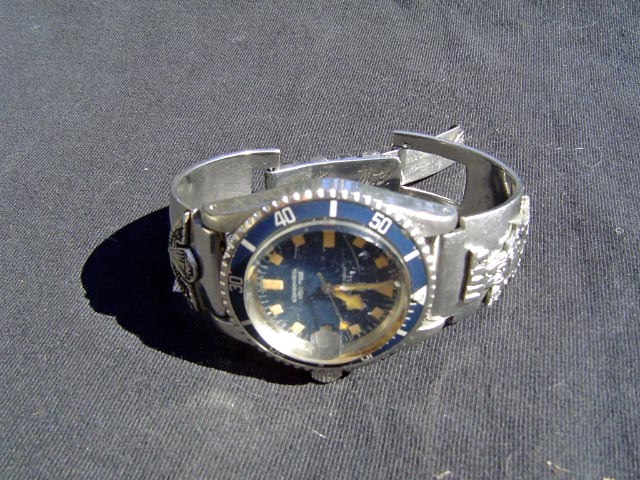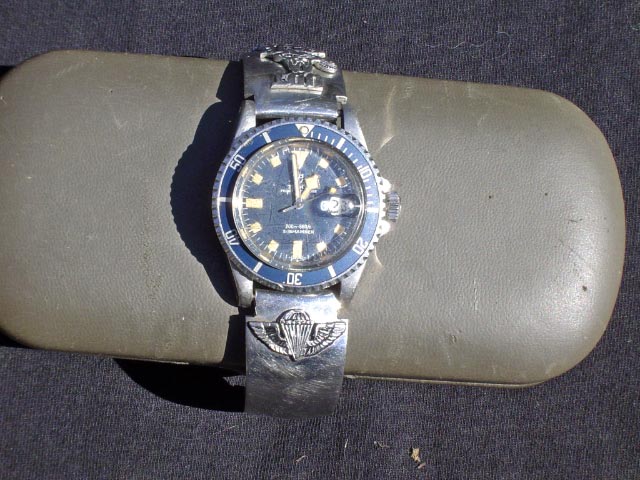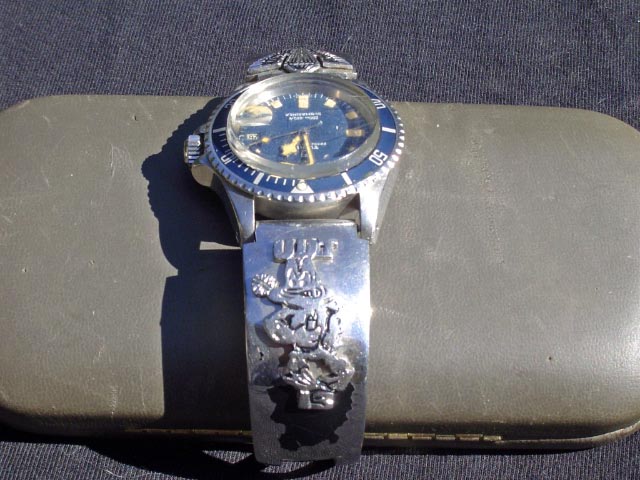 (note the black paint still present on the bracelet - just below the UDT frog)
Here is a brief review of Mr. Slattery's Naval Career:
"The son of a Naval Officer, Captain Mike Slattery began his Navy career in 1961 by enlisting in the Naval Reserves during his senior year at Mt. Diablo High school in Concord, Calif. He commenced active duty with the Pacific Submarine Force in Pearl Harbor, Hawaii in 1963, and served aboard the USS TANG (SS-563) as Quartermaster SN (SS) (qualified in submarines), until his appointment to the U.S. Naval Academy, Annapolis, MD in 1964. He graduated with the Class of 1968.
Captain Slattery later attended and graduated from Basic Underwater Demolition/ SEAL (BUD/S) Training (Class 56). Following BUD/S he joined Underwater Demolition Team THIRTEEN (UDT 13), where he deployed to Vietnam as Officer-in-Charge of the forward-deployed detachment conducting river reconnaissance and combat demolitions operations based out of Da Nang, Vietnam. Subsequent assignments included two tours with SEAL Team ONE as a Platoon Commander, and later as Executive Officer; and a return to Vietnam as a SEAL advisor conducting maritime operations and clandestine actions ashore in enemy held areas.
Upon his return from Vietnam, Captain Slattery was reassigned to UDT/SEAL training (BUD/S) as Senior Instructor for SEAL Tactics, Weapons, Demolitions, and Land Warfare. Other subsequent tours included: Inshore Undersea Warfare Group ONE as Executive and then Commanding Officer; Naval Special Warfare Group ONE as Operations Officer; and two Pentagon-Washington area tours with the Strategy, Plans, and Policy Division (OP-60) of the Chief of Naval Operations (CNO) Staff (OPNAV) and the Chief of Naval Personnel as SEAL and Navy Diver program coordinator. He was then assigned to Naval Special Warfare Unit TWO as Commanding Officer of all assigned Navy SEALs and Special Boat Detachments deployed to Europe for special operations contingencies throughout the European Theater.
Just prior to completion of his military service in September 1994, Captain Slattery served as the Chief of Staff for the Joint Special Operations Command (JSOC), at Fort Bragg, NC.
He also served as JSOC's Director of Exercise and Evaluation prior to his promotion to
Chief of Staff. Other senior level major assignments included Chief of Policy and Strategy, and Deputy Director of Plans, Policy, and Doctrine (J5) for the Commander and Chief of the United States Special Operations Command, MacDill Air Force Base, Tampa, Florida.
Captain Slattery earned a Master's Degree in Political Science from the University of South Florida in May 1990. He is a member of PHI KAPPA PHI and PI SIGMA ALPHA National Honor Societies. He is also a 1977 graduate of the Naval War College, a 1983 graduate of the National War College of National Defense University, Washington D.C., and has been designated a "proven sub-specialist" in Political and Military Strategic Planning by the JCS.
His personal military awards include: the Defense Superior Service Medal, the Legion of Merit, the Bronze Star with Combat "V", two Meritorious Service Medals, the Navy Commendation Medal w/Combat "V", the Navy Combat Action Ribbon, and the Vietnamese Cross of Gallantry"
graduated Mount Diablo High School,Concord,California
U.S.N.R.
USS Tang (Pacific Submarine Force) 1963 (Quartermaster SN(SS))
graduated US Naval Academy,Annapolis 1968
graduated BUS/S Class 56
UDT-13 (served Vietnam)v
Lieutenant 1971
Seal Team 1 (platoon commander + XO) 1971v
Seal advisor,Vietnamv
BUD/S training (Senior Instructor for SEAL Tactics,Weapons,Demolitions and Land Warfare
Inshore Undersea Warfare Group 1 (XO + CO)
Naval Special Warfare Group 1 (Ops Officer)
Chief of Naval Ops Staff,Pentagon (Strategy,Plans and Policy Division)
Personnel Staff,Pentagon (SEAL and Navy Diver Program Coordinator)
Naval Special Warfare Group 2 (C.O.)
Chief of Staff,Joint Special Operations Command (JSOC),Fort Bragg
graduated University of South Florida May 1990
retired September 1994 (Captain)
History Professor,Campbell University,Buies Creek,North Carolina 1995